According to Wikipedia "A Blog" is described as
"A blog (a blend of the term web log)[1] is a type of website or part of a website. Blogs are usually maintained by an individual with regular entries of commentary, descriptions of events, or other material such as graphics or video. Entries are commonly displayed in reverse-chronological order. Blog can also be used as a verb, meaning to maintain or add content to a blog."
What does a blog mean to you? Do you have a blog? Do you follow a blog? Have you heard of a blog?
A blog is a tool that is very popular and can be used not only to share your families journey, but to assist you in your fundraising.
Have a look at a couple examples of families with kids who have special needs and how they are using blogging to assist them: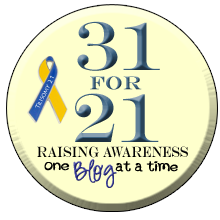 Grab This Button
Do you see a Blog in your future? Here are a few links to guide you and inspire you:
For inspiration.............
For practical application...........
For good content and writing style..............
For inspiration...................
Do you have a favorite Blog you would like to share? Please leave a comment!